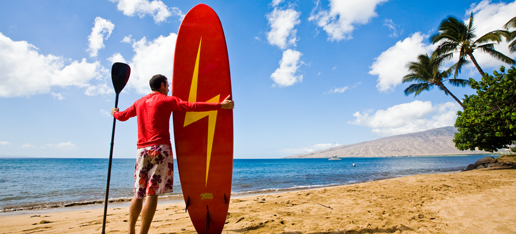 About Kihei
Kihei is a small town of 21,000 located on Maui's South Shore. It is the most populous town in South Maui, with a large supply of hotels, condos, shops and houses. Kihei is known to be one of the hottest places to stay on Maui (temperature-wise) because it doesn't get the breezes that other parts of the island get (perfect for that winter getaway).
Kihei does get a strong trade wind in the summer that can blow as hard as 25 mph every afternoon. This is usually during the months of April till September and early October. May through November averages 88 degrees. The coolest months of the year are December through April when the high averages 82 degrees. Kihei gets only 12 inches of rain per year, most of it falling in the December-January-February timeframe. Expect sunny skies and warm weather year-round.
Things to do
Go snorkeling. There is some nice coral around Kamaole Beach Park III or take one of the snorkel cruises that depart from the Kihei Boat Ramp. You can rent or buy snorkel gear a local shops like Snorkel Bob's and Maui Dive Shop. For info on snorkeling south of Kihei visit the Maui page.
Go swimming at one of the many beaches. The trio of Kamaole Beaches – Kamaole Beach Park I, II and II – are probably the nicest (and busiest) of the Kihei beaches. They each have their own changing rooms although parking is limited if you bring a car.
Go Surfing! A popular surf spot for beginners is the Kihei Cove, just south of the "Triangle" . You can rent boards and get lessons just across the street.
Go to a luau which feature Polynesian music and dancing. Several resorts host them on various nights of the week. Most feature a buffet dinner, and unlimited drinks.
Visit Kealia Pond National Wildlife Refuge. is a good place observe Hawaii's endangered wetland birds, along with a diversity of feathered visitors from as far away as Alaska and Canada, and occasionally from Asia. Best season to visit is the winter. Best time of day is in the morning.