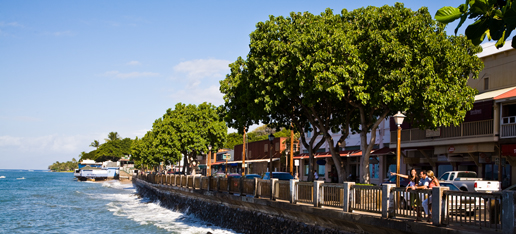 Lahaina is a town on the western end of the island of Maui, Hawaii that abounds with restaurants, night clubs, and souvenir shops. Because the western end of Maui is a popular vacation destination, tourism is important to Lahaina. Most tourists, however, eschew Lahaina during the day, choosing instead the beaches of Kaanapali; but life in Lahaina after sunset is quite active.
Things to do
Old Lahaina Luau. Widely respected as the best and most authentic Hawaiian luau in the Pacific, the Old Lahaina Luau is a feast for the eyes and stomach. Enjoy fire dancing, hula, tasty drinks and a large assortment of tropical dishes. $98 + Tax.
Take a whalewatching cruise. Various boats can take you on dinner cruises, whale watching cruises, fishing rides, or to the island of Lanai. Look for good deals but beware of the "too good to be true" offers, they probably are. Note that during the whale season you'll see whales no matter where you go so getting a separate whale watching cruise may not be necessary. On the other hand, they are usually cheap.
Ride the Sugar Cane Train, 975 Limahana Pl Ste #203, +1 808 667-6851 (toll free: +1 800-499-2307). 10AM-5PM. Officially known as Lahaina Kaanapali Railroad, this is the only train in the whole of Hawaii. It shuttles between Lahaina and Kaanapali. If you choose, you can take a dinner train. $21 roundtrip, $15 children 3-12.
Take a stroll down the Front Street, along the shore. Watch people, enjoy the weather, simply relax.
Halloween in Lahaina. Lahaina is home to one of the wildest Halloween parties on the islands. 25-35,000 costumed participants fill the streets each year to enjoy the jovial festivities. Some of the more elaborate costumes have taken over a year to make, which adds to the complexity of the colorful scene.
The Baldwin Home Museum (Lahaina Restoration Foundation), 120 Dickenson St (cnr Front St and Dickenson), +1 808 661-3262. 10AM-4PM. One of several Museums run by the Lahaina Restoration Foundation. Don't miss the candlelit tour every Friday night starting at 6PM. $3-6.